Healing Hands' Bookstore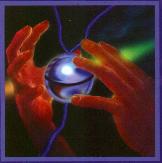 The following books are highly recommended by Tamalyn: These books are available through secure order form at Amazon.com. Many of the titles are discounted 20% and will ship in 24 hours. Just click on the underlined title of the book or on the picture of the book, to see ordering information at Amazon.com and to order.

Creative Visualization by Shakti Gawain
If you want to create positive change in your life, this is an excellent, inexpensive reference. I have used the techniques in this book for years and highly recommend it to my Clients!!

Hands of Light: A Guide to Healing By Barbara Ann BrennanA guide of hands on Healing through the Human Energy Field.

Flower Essence Repertory - A comprehensive Guide to North american and English Flower Essences for Emotional and Spiritual Well-Being By Particia Kaminski and Richard Katz An invaluable reference to emotional healing using flower essences for both the novice and the expert.

Plant Spirit Medicine by Elliot Cowan
A trailblazing book that explores an old way of healing through the spirit of plants. The ancient proactice of plant spirit medicine, long forgotten in the West, has now been remembered, revitalized, and reintroduced by the American healer, Elliot Cow
The Pendulum Kit
Access your intuition..... We are all psychic and you can learn to access your intuitive powers with this pendulum kit.... includes an excellent pendulum. Find the answer to any question (love, relationships, business, ect.) by accessing your right brain, intuition and subconcious
The Pendulum Kit

Love is in the Earth: A Kaleidoscope of Crystals by A. Melody
This is encyclopedic review of crystals and their use in healing. Wonderful Treasures inside and is a "must have reference"

The Crystal Ally Cards: The Crystal Path to Self Knowledge by Naisha Ahsian Tarot cards that assist in learning the healing properties of the different crystals and minerals. They reveal a whole new level of gemstone information, and then take you a step father, allowing you to immediately apply that information to situations in your own life. Best and Fastest way to learn the healing properties of gemstones and Minerals. Beautifully Illustrated and detailed companion guide included.
Vibrational Medicine: New Choices for Healing Ourselves by Richard Gerber, M.D. Bridges the gap between science and spirituality. In depth coverage of energetic healing from the different energy bodies (ie. Astral, Etherical, ect.), psychic healing, crystal healing, and healing with flower essences. Extensive Compilation of information on human energy systems. 558 pages.

Entity Possession Freeing the Energy Body of negative Influences by Samuel Sagan, M.D. This book is being discussed in the Metaphysical Discussion Board during may and June. It is a detailed description of Entity possession with numerous examples included. The how, when, and why of entity possession is thoroughly discussed.

REMARKABLE HEALINGS: A Psychiatrist Discovers Unsuspected Roots of Mental and Physical Illness By Shakuntala Modi, M.D. In Treating patients that suffer from ailments that have now apparent cause or cure, Dr. Modi discovered that past-life regression can be a beneficial treatment. Many of these patients, under hypnosis, claimed to have spirits attached to their bodies and energy fields, creating psychological and physical problems.

The Verbally Abusive Relationship: How to recognize it and how to respond By Patricia Evans
This is the Best reference that I know of describing Verbal Abuse dynamics that affect so many peoples' personal and Business Lives. numerous examples of Verbal Abuse given.
Interested in a Book or subject not listed above?? To search Amazon.com, just type in subject matter or title of book and/or author. Then double click on search button.
Browse our new Aromatherapy Section: I. Introduction II. Single Essential Oils III. Essential Oil Blends IV. Order Form V. Missing Link Transcript - Healing Values of Essential Oils VI. Business Opportunity
Order a Reading with Tamalyn: