Welcome to my site.  My name is Tamalyn Stockton.   I am an independent distributor for Young Living Essential oils.    
Try the Spiritual and Emotional Healing Oil Blends to help manifest profound changes in your life.   I suggest that you try some of the starter kits to get a feel for the magic of these plant oil extracts.
Also try the Romantic oils and massage products.  For more information see:   Aromatherapy for Lovers
There are a huge selection of oils here with a many therapeutic effects from relaxation, stress releasing, for respiratory aliments, circulation problems, aphrodisiac qualities, emotional balance, prayer, and spiritual growth.  So take a look and decide how some of these oils might help you!!!!    I.  Single Oils        II.   Essential Oil Blends
Here are some reflex  areas of the feet & hands that you can apply essential oils that will affect the upper /lower torso & spine: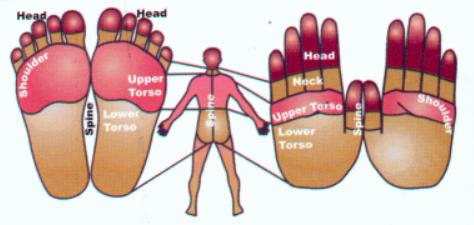 The longer essential oils stay in contact with the skin, the more likely they are to be absorbed.   Rose ointment, a mixture of beeswax vitamin E, and other natural ingredients, is designed to be layered  on top of essential oils to reduce their evaporation and enhance penetration.
Related Links:  Romantic oils     Aromatherapy for Lovers